Safari Blocks PDF 8" Block Pattern
Safari includes the following 12 designs: Spotted Hyena, Baboon, Springbok, Thompson's Gazelle, Cheetah, Zebra, Crocodile, Lion, Lioness and Cubs, Giraffe, Hippo, and Elephant.
This is a PDF version of safari Blocks. Enjoy these popular patterns in the new e-mailed format.  We'll get them to you ASAP.
Remember these patterns are copyrighted and should not be shared although it would be easy to do so.
$6.00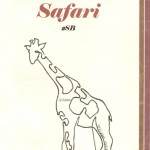 (Don't forget to download from our free pattern archives!)