Quilts of Valor Program
MeadowLyon Designs is pleased to be participating in the Quilts of Valor program. This is a national non-profit foundation with a mission to provide a quilt to ALL wounded and injured service members from the War on Terror as a thank you for the sacrifices they have made in the defense of the freedoms and liberties we all enjoy. We will provide complimentary patterns for those who are creating these quilts. To go to the official Quilts of Valor website, click www.qovf.org
We are offering the following patterns (complimentary) for those who are making these special quilts for wounded members of the armed forces. Thank you! Thank you! Thank you for your service!
If you have a computerized quilting machine, please e-mail Angela at angela@meadowlyon.com and let her know you need digitized patterns, and what kind of machine you have. Thanks!
Otherwise, we have a few options for you to choose from:
Option #1: "Starry Night" package.
"Starry Night" is a 4 1/2″ pattern that you can copy and tape together. It requires 2 passes and includes a corner. It was designed to coordinate with our current "America's Pride" patterns (see below).
(We are also selling this pattern in roll form for those who want it for their own use, or to contribute to the QOV cause. All profits will go to the Quilts of Valor program to assist volunteers to offset their shipping and other expenses. It comes in 4 1/2″ and 8″ sizes.)
There is also a 2″ star sashing pattern included.
Download the online "Starry Night" package here.
To order the 4 1/2″ or 8″ pattern, click the size below:
Option #2: "America's Pride" 8 inch blocks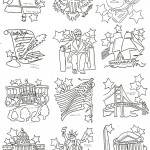 To receive this complimentary pattern for download, e-mail Angela (address below) with a brief note and she'll e-mail it to you (to view more details on this pattern or to purchase it for personal use, click here): angela@meadowlyon.com
Option #3: "America's Pride" 11 inch Pictogram pattern.
Are you stitching for Quilts of Valor? Click here to download. This special pattern is available just for you!