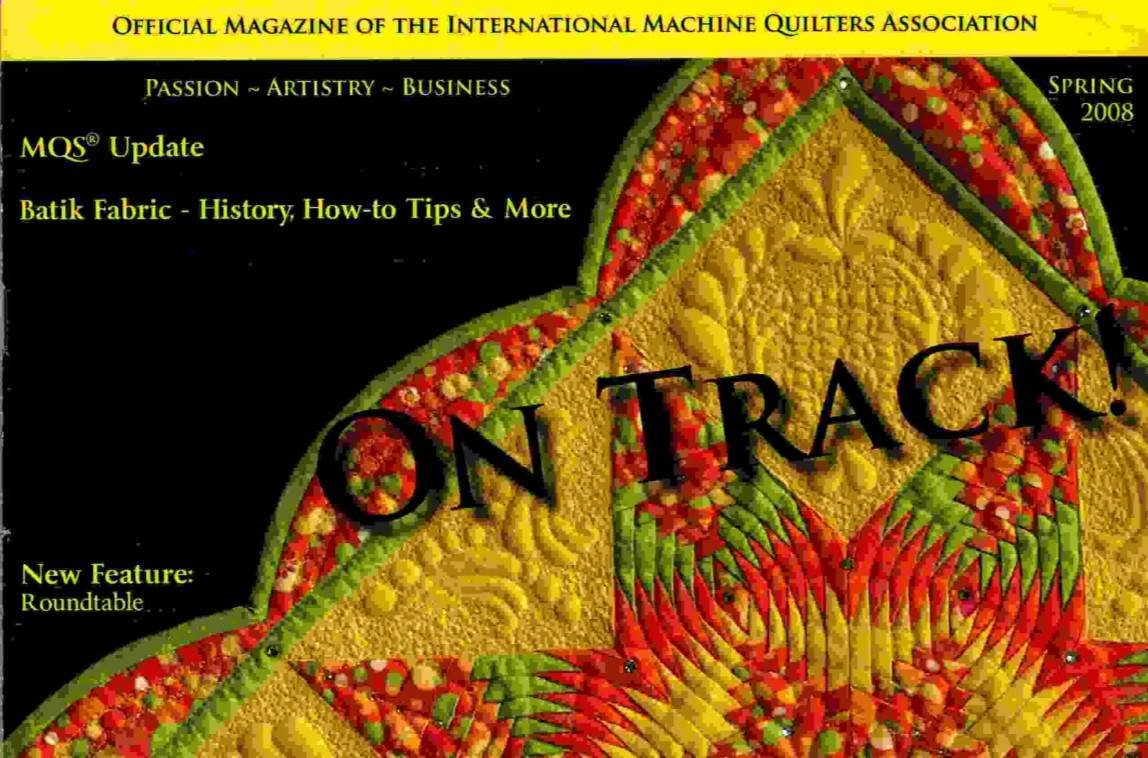 ---
My Love Affair with Batiks  By Judy Lyon
A Budding Romance
I first became aware of Batiks in the early 60's.  Yikes, I'm revealing my age!  I loved to shop at import stores.  The interesting items from all around the world intrigued me.  Their fabric offerings were in the form of stamped batik designs and were used for skirts, tablecloths, and bedspreads.  They were great with the Ravi Shankar music and the incense sticks of the 60's.  Later, in one of my college art classes the teacher taught actual batik-ing.  For me, it was love at first sight!  My equipment was a tjanting tool (The modern spelling is "canting," pronounced "chaunting."), a wooden frame, and a small kettle.  Tjanting tools typically have a wooden handle with a long metal tip composed of a chamber for holding warm wax and a spout extending from the lower end or point.  I used a combination of beeswax and paraffin in the jaunting tool to draw out my designs, mainly paisleys on scarves, etc.  I still have the tiny kettle I used for melting wax.  In fact there's still a layer of wax in the bottom.  Anyone who really knows me understands.  I don't throw anything away! "I might need it again," and I usually do!   Not having an internet was crippling!  The color sequence …….. SEE MORE AS pdf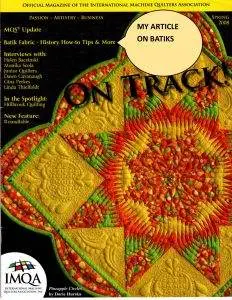 My Love Affair With Batiks – On Track Magazine spring 2008
So "How do you successfully quilt on Batiks?"
1. Check your fabric to see how tightly or loosely woven it is.  Many made for Quilting" batiks are loose enough to withstand the heavy stitching given to quilts.  But some are not. Although I don't advocate discarding the tighter fabrics, you'll need to take extra care.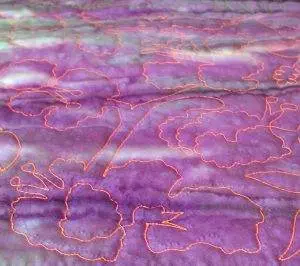 2. Use a finer needle to prevent puncturing the threads in a lightly woven fabric. (See the lower side of the purple picture  – you can easily spot holes left in the batik where stitches were removed.)  A ball-point might be helpful- but not too large.  If you encounter "Frogging" the fuzz around stitches indicating broken threads you might be able to make them less visible by using a damp cloth, dotted with silicone and rubbing lightly.  This can be a tricky decision if you have multiple layers of fused appliqué through which to stitch.
3. A silicone lubricant is useful.  Spray on brands are available but difficult to find.  You can apply a few drops of silicone (ie. Sewer's Aid) to a damp cloth and rub over the quilt surface or apply a few drops to the spool.
4. Loosen the quilt sandwich on your machine slightly.
5.  Batiks are a dream for machine appliqué because as a tightly woven fabric they do not fray easily.  For hand-appliqué they may require a little more effort pushing the needle through the tightly woven folded edge.  Use a finer needle and try some silicone.