MeadowLyon Designs is pleased to be participating in the Quilts of Valor program.  This is a national non-profit foundation with a "mission to cover service members and veterans touched by war with comforting and healing Quilts of Valor."  For information about this organization and to go to the official Quilts of Valor website, click 

http://www.qovf.org
We thank these men and women for their sacrifices in defense of the freedoms and liberties we all enjoy.  We will provide complimentary machine quilting patterns for those who are creating these quilts. We offer the following patterns:
Thank you! Thank you! Thank you for your service!
We have a few options for you to choose from:
Option #1: "Starry Night" package.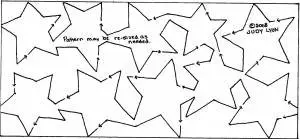 "Starry Night" is a 4 1/2″ pattern that you can copy and tape together. It requires 2 passes and includes a corner. It was designed to coordinate with our current "America's Pride" patterns (see below).
(We also sell this pattern in printed paper roll form for those who want it for their own use. It comes in 4 1/2″ and 8″ sizes.)
There is a 2″ star sashing pattern included.  It also includes isosceles and equilateral triangles.
To purchase the 4 1/2″ or 8″ pattern for your own use, click the size below:
Starry Night 4 1/2″                            Starry Night 8″
Option #2: "America's Pride" 8 inch blocks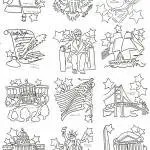 If you would like to receive these downloadable blocks free of charge for use with the Quilt of Valor program, put the pattern (America's Pride Blocks PDF) in your cart and then use the following coupon code during checkout.  Please do not use the code to purchase this pattern for personal use.
coupon code:
QofV
Option #3: "America's Pride" 11 inch Pictogram pattern.
Are you stitching for Quilts of Valor? Click here to download a PDF copy. You can print it out and align the pages to form the original roll.  This special pattern is available free of charge just for you!
Note: To fit the pages this pattern has been reduced to 10- 3/4″ width. Therefore the length will be shortened.  ( The total length of 144″ will now be approx. 141.72″  This will make the length of each panel slightly more than 1/2″ shorter.)
click to see details on this pattern
Option #4 :Digital Patterns
Our distributer for our digital patterns Legacyquilting.com has also agreed to sell our  digital versions of the patterns Starry Night and America's Pride at a steep discount, only $1 each, for use in Quilts for Valor projects.  Find them here.