It is not the cold spooky orange and black of Halloween. No, It's a warmer combination of gold and orange and brown; touched with the reds of Christmas which are soon to come. It is the color of fall leaves, first on the trees, then blanketing the ground below.
It's a beautiful combination of them all, isn't it?
Can you EAT those colors? YES! See below for FREE PUMPKIN-MANIA Recipe booklet!
Thanksgiving Story : When my kids were small I discovered this cute story and made a big Turkey puppet and big puppet children. They came with us each year to school and kids were chosen out of the classroom to re-enact the story multiple times. Here, my daughter copied it for her kids.
"Patience and Daniel were little English children in the settlement at Plymouth. One day their Father brought them a young turkey to raise and play with. They were so happy to have their nice pet. What's his name they asked. But he didn't have a name. You choose a name Daniel said to his little sister patience. She named him (let the kids choose.)____.When their Indian friend, Takset, came to play he was so surprised. All three children spent many happy hours that summer playing with their pet _____.
When they walked to the stream to get water for their mother, _____ Turkey followed them. When they shouted and ran noisily about the turkey was frightened and flew into the branches of the tree to hide.When the children ate their snacks, ____ turkey pecked at their feet hopoing to have a snack too..When autumn came Father said, "___ turkey is the biggest turkey in the settlement and we'll cook him for our big Thanksgiving feast."
The children were shocked. That night Patience and Daniel cried themselves to sleep.But in the night Takset crept into the village. He carried ___ turkey away in a big sack.The next morning the turkey was no where to be found so Father and mother baked a different turkey for the feast.When all of their Indian friends came, they were surprised to see Takset with ______ turkey. They were so happy! The children played all day and that night three happy children fell into their beds, dreaming of playing together the next day.
Yikes, I can't believe it's so late! Where has this month gone?? I just realized I'd better get this post out before it's too late.
I have some Quilt mockups, but now it's too late to start for Thanksgiving. Oh well, here they are anyway. The first is for my newest pattern: "HUNTING." Fall is Hunting Season!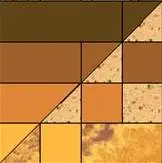 Another is a mock-up of my Thai Temple Tiles in Autumn Colors with our "Autumn Wind" pattern overlay.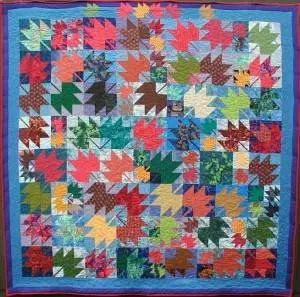 This year I just can't seem to get enough of my yummy brown Pumpkin Filling. I've already used it several old ways and invented some new treats. In fact, I love all things Pumpkin! I thought I'd share them with you.
HAPPY THANKSGIVING!