Celebrate our Founding Fathers at Home and in History with Love, Honor and a FREE Patriotic pattern!
At this time of year we remember our "Founding Fathers," both family and nation.  Some founding fathers of our family are John Lyon, William A. Redd, Hans Ulrich Bryner, Lucius Franklin Snyder.  Bryner, seated with a beard, was an immigrant to the US from Switzerland. In large measure he was the founder of the Bryner clan in America.  Before coming he was blinded in an accident, but didn't let that stop him. Traveling by ship and then covered wagon across the US he held onto the back of the wagon, giving up his seat inside for an elderly woman who needed a place.  I designed a quilting Pictogram, Westward Ho, around his story and pictured him holding the wagon.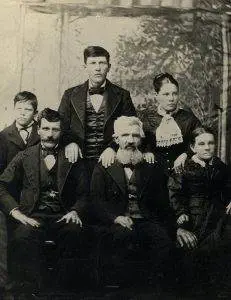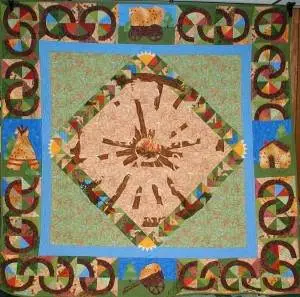 Just as you honor your fathers, we honor ours by telling them we love them, by giving them gifts, and by cooking their favorite treats. Our Dad loves tunnel of fudge cake – the old recipe with pudding. Yumm…. The kids all love making him treats each year!  It's no wonder in Sunday School we sing, "I'm So Glad when Daddy comes Home." Now he's a grand father and sooo good at reading stories.  I get jealous – they want him!  See his picture?  Grandpas make us smile, don't they?  (I had fun overlaying the pix with an image from our America's Pride Blocks- FREE PDF June 2019 only.)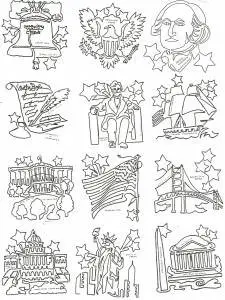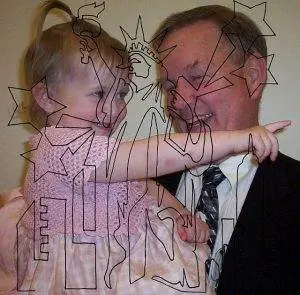 This time of year, climaxing with the 4th of July, is full of Patriotism. Because we live near an Army Post the boy scouts place flags on all the graves in the cemetery for Memorial day.  That is the beginning.  Memorial Day, D-day, Father's Day and July 4th make a grand month of remembrance.
Patriotic service and red, white and blue décor and stories of valor are part of the fabric of our lives. In such ways we honor the Founding Fathers of our country.  We obey the laws, we vote, we celebrate the birth of our nation. We enjoy the land through vacations and song – "Oh Beautiful for Spacious Skies…"   I even decorate a 4th of July tree!  (I'm also reminded of a Canadian hymn, "In days of yore from Britain's shore, Wolfe, the dauntless hero came…"  My mother grew up in Canada and I learned this song as a child right along with The Star Spangled Banner.)
Every year on the 4th of July, we watch the movie "1776."   Our kids have the dialogue memorized. We love lines such as "He plays the violin…" and "Pins!" – "Saltpeter!"  What, you don't know those lines?  Pull out that old movie this year and find them.  You'll have to sing the words with Ben Franklin! I can see and hear it in my mind's eye.
Another tradition has been to have a BBQ and Swim party in the back yard.  Ribs and sweet potato salad are always on the menu.  I'll include my favorite ribs recipe for your 4th of July feast this year.  It's actually an oven recipe but we put it on the grill for that special smokiness I love.  Homemade ice cream was also a favorite, Root Beer flavor as well as chocolate. Strawberry pretzel dessert was embellished with blueberries.  We'd have a yard full of friends, family  and neighbors and sit around until dusk while the kids played in the pool. Later we often drove onto the military post for a fireworks display.   I miss those days now that the kids are grown.   WHY DO WE DO ALL THIS? To honor the birth of our nation and the founding fathers who built us this heritage.  To honor the birth of our families and our own beloved Founding Fathers.
What are your favorite Father's Day or 4th of Judy (oops July!) traditions?  Happy Father's 4th of July!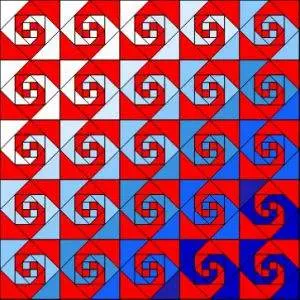 This year I've had fun planning out some Patriotic quilt designs. "Patriotic Snail's Trails and More!  They're not full-fledged patterns, just my plans – but enjoy!