This year is moving so fast- of course I've been traveling a lot. And I've made 3 baby quilts for my 3 new grandchildren. Those at least, got finished.
It was the "Nemo" quilt! This was my first time doing applique with an embroidery machine. I learned a lot and will certainly be doing it again. I feel I had great success with the clownfish. See below for a few shots of how I did it.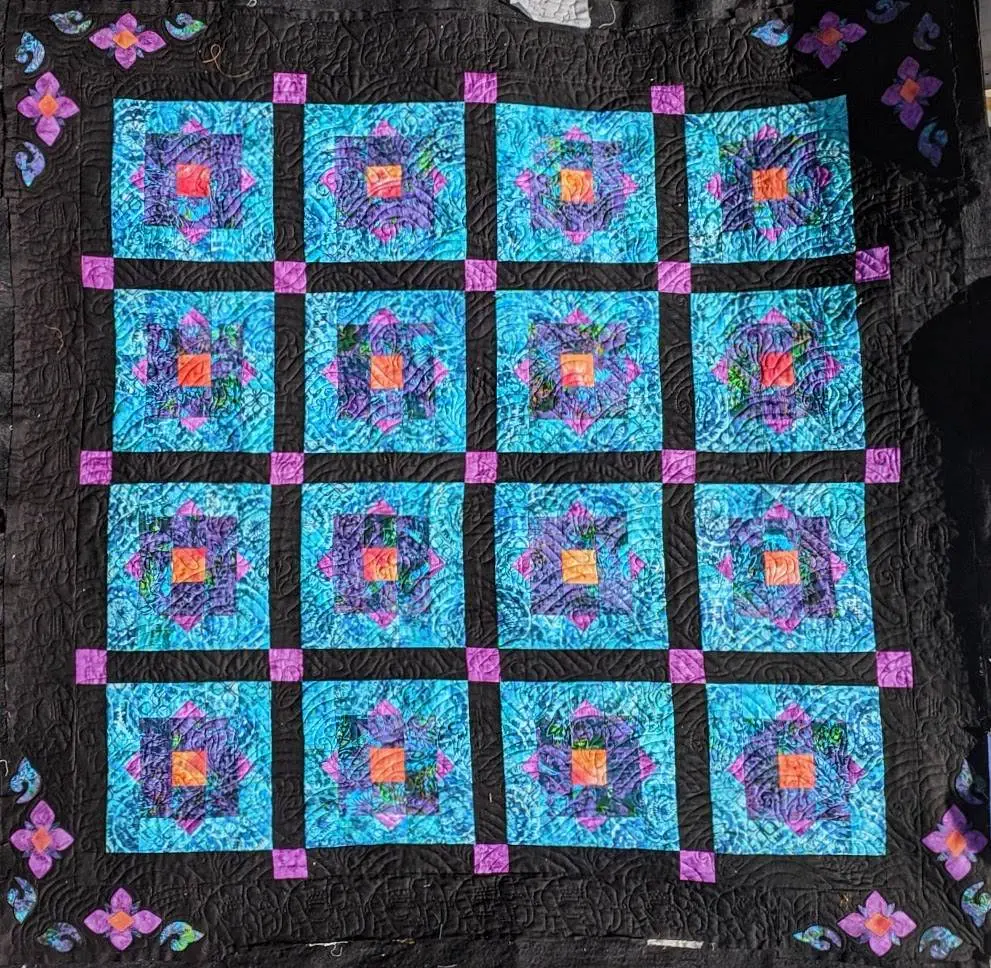 I've also made a UFO – Thai Temple Tiles- and I love it! To me the colors are great although I'm not a big fan of black, but in this case I think it really POPS! I realized the other day that it's reminiscent of Amish quilts pieced with a black background. See below how I made the blocks.
I love the quilting too! It's "Gulf of Siam." The even, tight texture is a perfect complement to the tile design without competing with it. My new Oriental Elephant border works well on it too. Since it's a PDF it could be sized to fit. It still needs a binding but the trunkshow date arrived, I displayed it, and had to move on to another baby quilt.
I want to go back and put some pebbles around the elephants to make them show up better. Awww, too much to do! See the FULL PICTURE tutorial below!
So I'm skipping ahead to Machine Embroidery!
I've finally got some Christmas things ready for Redwork by Machine Embroidery! The can be enjoyed simply as embroidered blocks or used for the actual quilting. You can buy them at my website until my link opens up on Oregonpatchworks.com.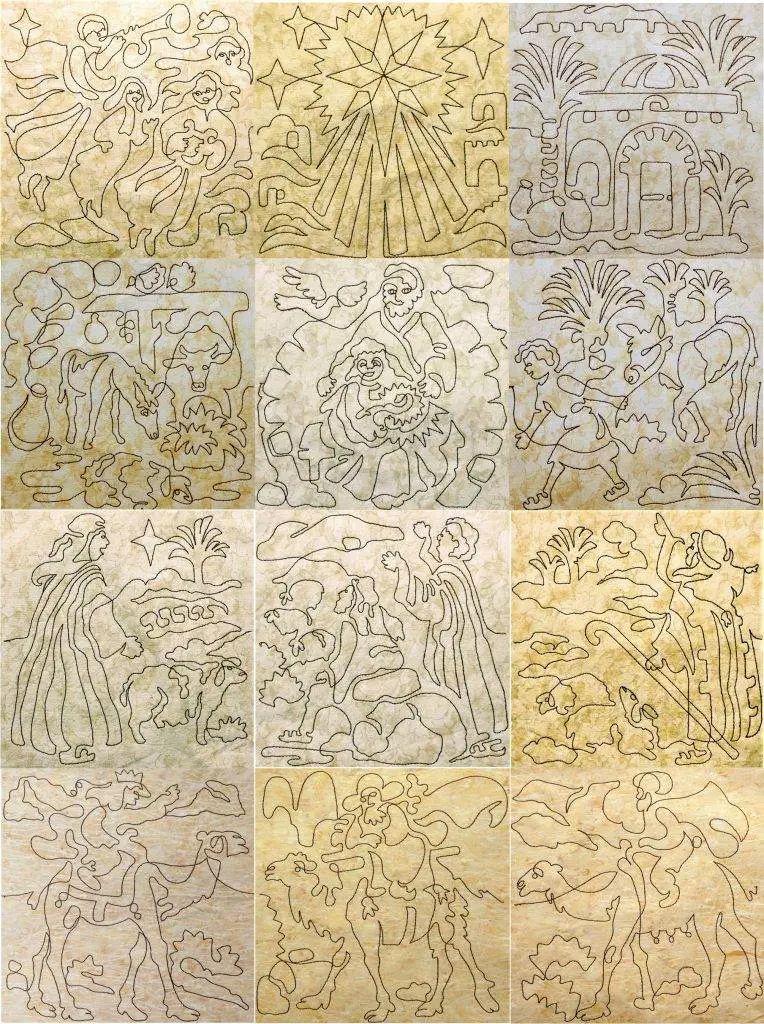 Joyful Birth Embroidery Files
"Joyful Birth includes the following 12 designs: Holy family, star, choir of angels, shepherds (3), wisemen on camels (3), boy with donkey, animals, village.
You can stitch the blocks separately to make the entire scene or place them into a quilt with sashings between.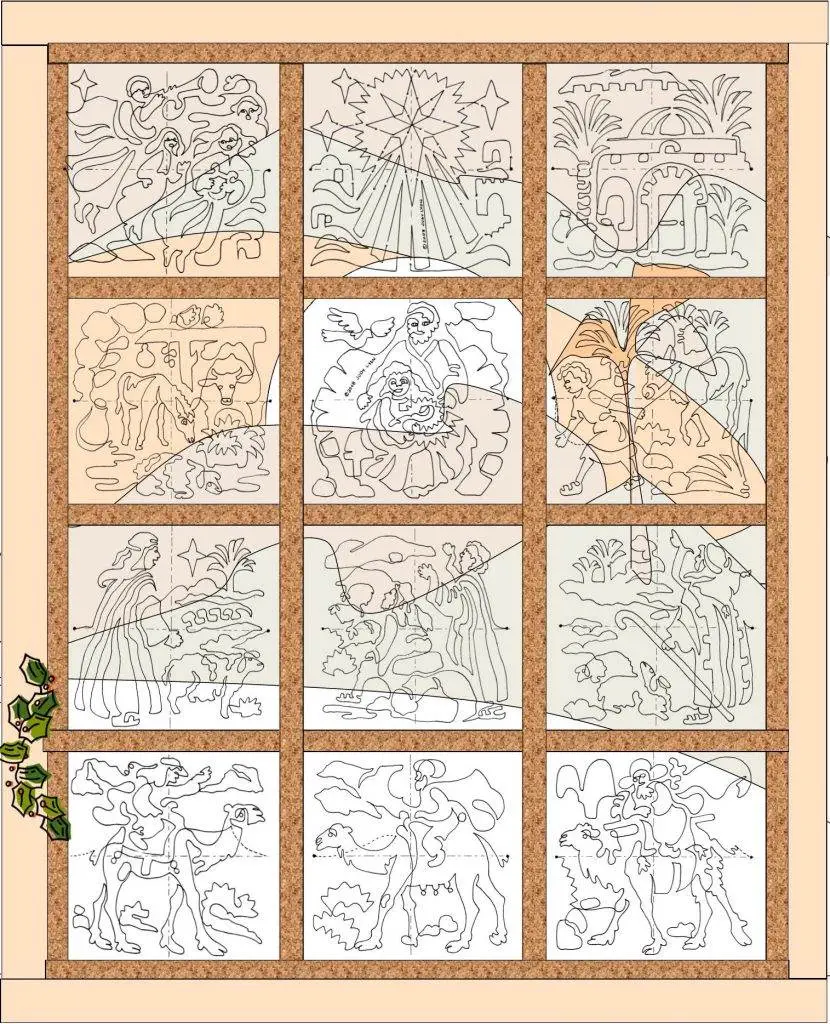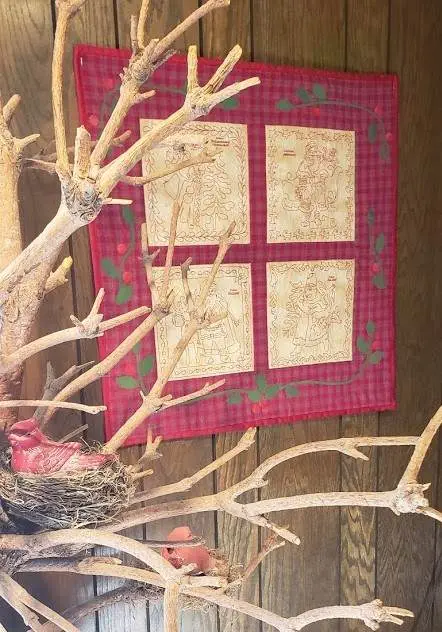 Santa Around the World Set 1: the European Tradition

Set of 12 for $40.00 includes 24 designs (12 different Santas and 12 different frames). 9.96×9.96 & 7.80×7.80
Interchange them if you like, or use the frames to go around other embroidery.
The Santa for Albania – Babadim Ri is ready now. (Grandfather Winter)
https://www.meadowlyon.com/shop/santa-albania-redwork-embroidery/
In Albania, because it is a nation of both Moslim and Christian peoples the fun aspect of Christmas has been embraced and become a common ground for families and neighbors to share in the happiness and fun.
I don't have them all posted yet, but will do it as possible. You can purchase them separately ($3.99) to get your favorites!
While I'm on the topic of Machine Embroidery – here's how I did the Nemo quilt. I appliqued the fish on with the Machine embroidery!! I resized some of the fish and positioned them and flipped them to add some variety to the blocks.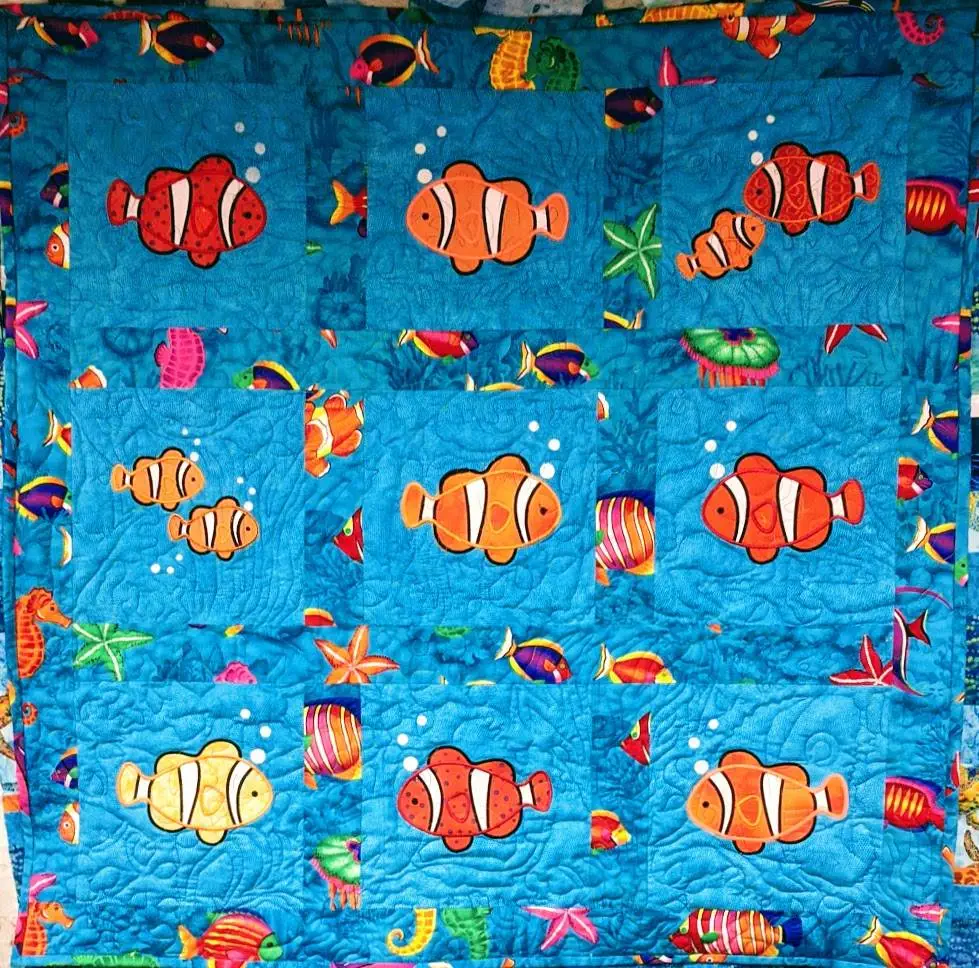 I'm finally back to the Picture Tutorial for my THAI TEMPLE TILES QUIILT!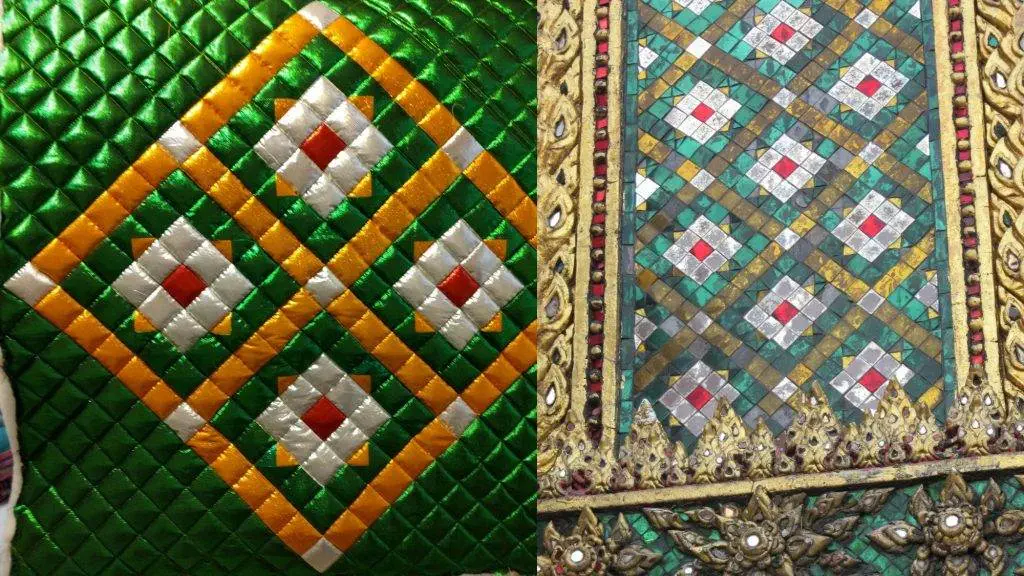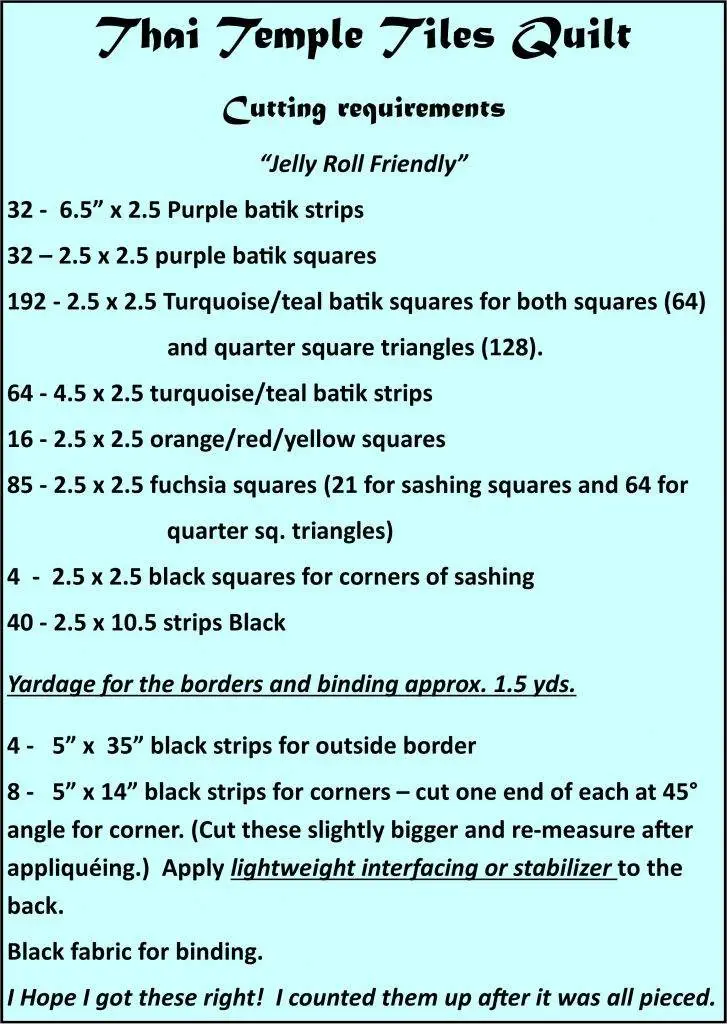 This quilt was surprisingly fast and easy. If you use a "jelly roll" it will be even easier. Since I didn't use one I can't tell you how many you'll need. Sorry. If anyone makes it, let us know how many jelly rolls it takes. Of course, you can make this quilt small for a lap/baby quilt or large for a bed. This one measures 60″x60." (when I get the border on!)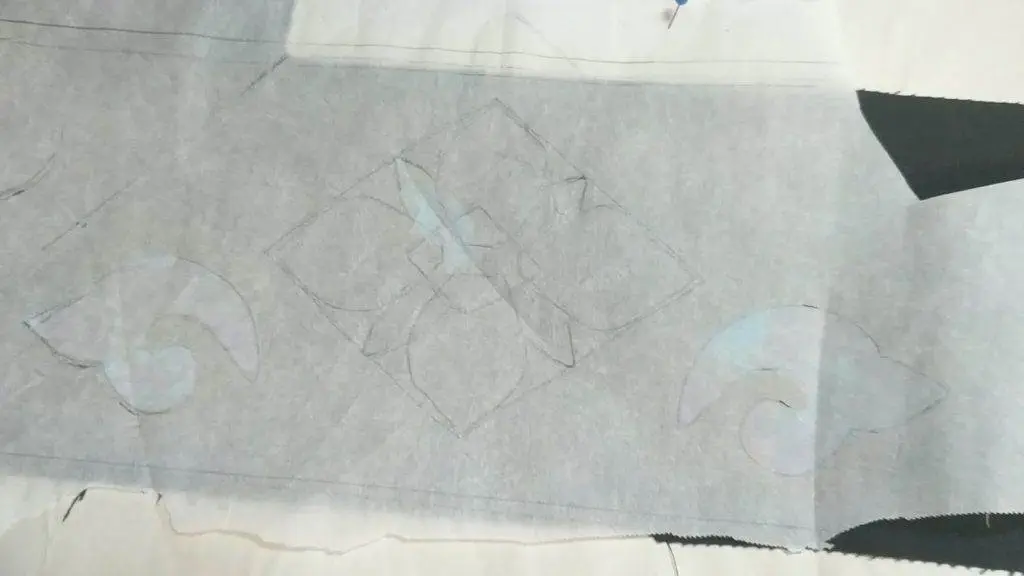 See How I placed the pieces for the Applique.
Gotta Rush now! Happy Quilting!