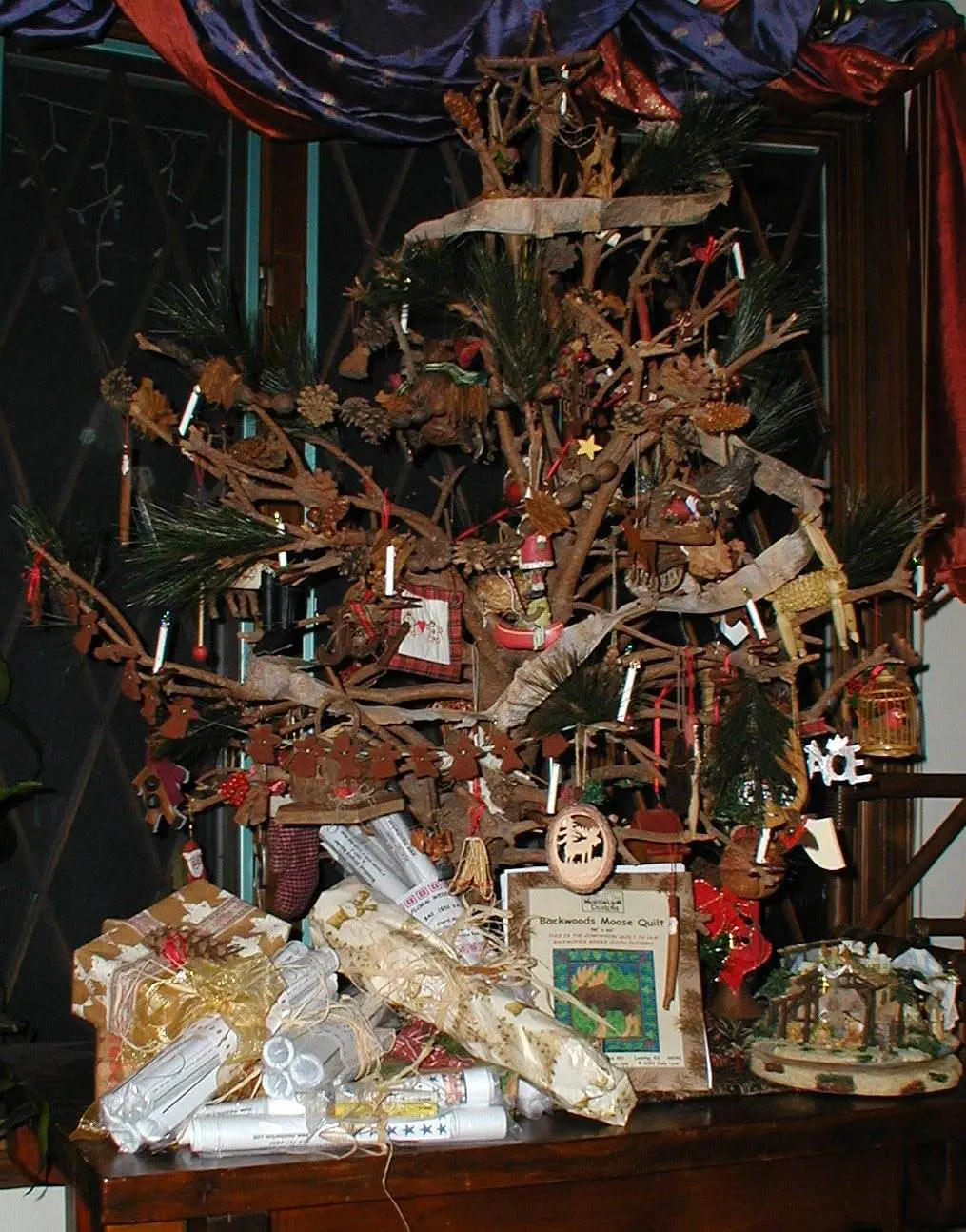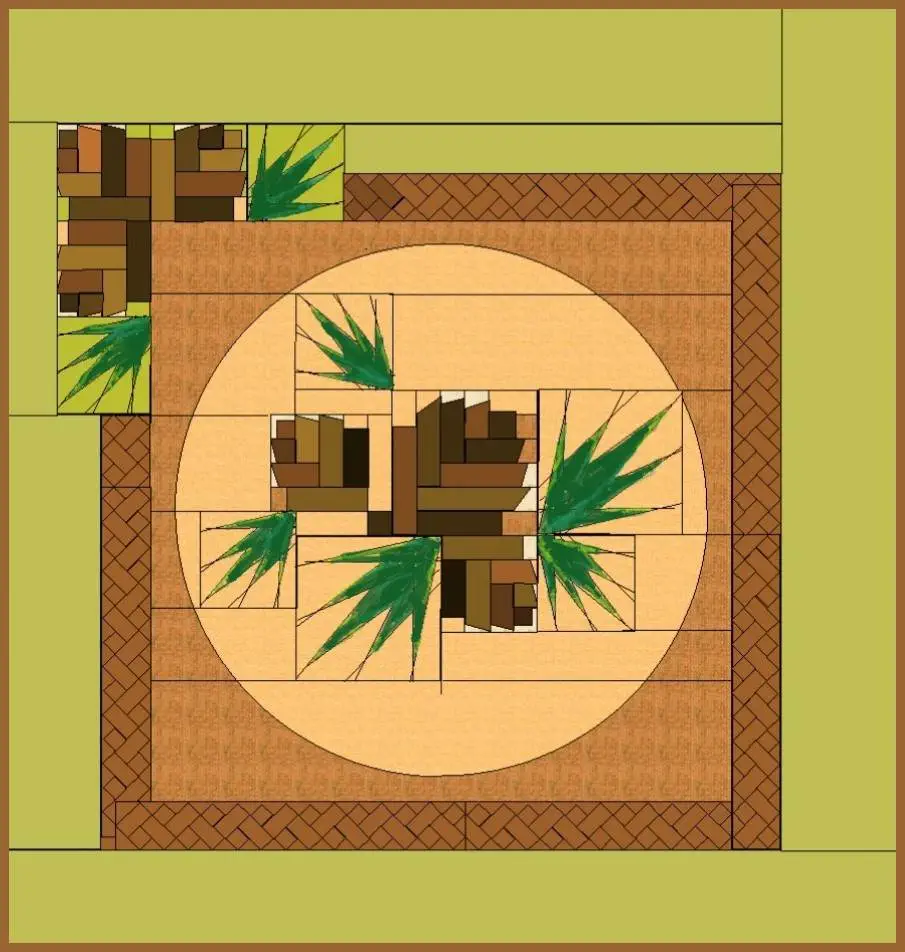 I think I've always loved pinecones. In California we would drive up into the San Gabriel Mountains and breathe in the sweet smell of pine and the pinecones they sported. Even here in Kansas there were pine trees in the park across from our historic 3-story house on Ft Leavenworth where we gathered pinecones for decorating. Isn't it fun to see their different shapes and sizes. I haven't had much time this fall for finishing quilts, but I'm loaded with ideas. One is this great little Sweet Pine Quilt.
It measures 74 x 78 using 2" squares (2 1/2 cut). This is the measure by which I'll give all my directions. But you could resize it in any way you wanted from 37 x 39 with 1" sq. and 55.5 x 58.5 with 1 1/2" squares.
I first sketched out this quilt when I was drawing the Ponderosa Pine Spray and Pinecone patterns—yes that was long ago! But now I have "Rustic Santas" just itchin' to ride around my "Sweet Pine's" borders. For this quilt I'm showing the "Rustic Yosemite Santa" (9" wide) with his sleigh pulled by California Grizzlies.

Chuckle! I've been including recipes, but just can't think of a pinecone one. I found some on Pinterest and will include the links here. Gingersnap Pinecone cookies and Chai Spiced Pinecones.
Is Wild Moose good to EAT? I don't know about that, but my Wild Moose Antler Dip is something you'll want to try. Be sure to serve it with pretzel twists so they'll look like antlers! I just can't stay away from this. I keep sneaking into the kitchen to get another nibble!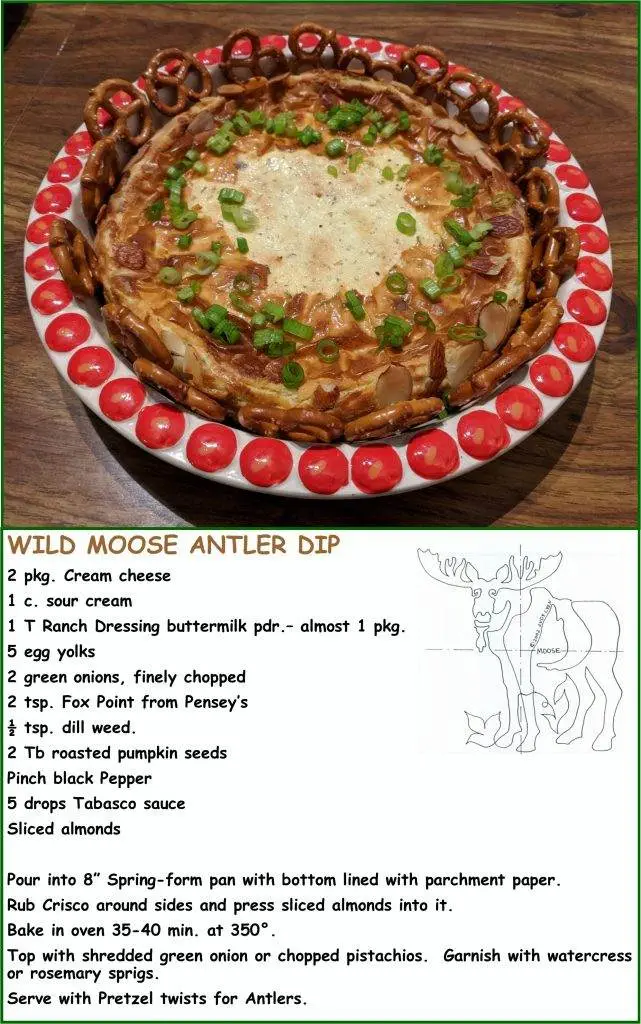 BACK TO THE QUILT! Are you curious about the circle inset?  I really imagined an Ombré fabric with a bright area in the middle fading to dark as it progressed outward.  The circle was how I "suggested" it, but in the end I liked the circle.  I'd also like to try it with a plaid border.  In fact, I bought a lot of plaids this year for a new "Rustic" quilt and also 2 new plaid shirts!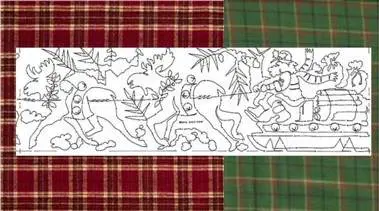 The Inner border could be pieced with different browns in a special design if you're into beauty and have plenty of time. An easier option is actually a Seminole Patchwork braid in 2 colors or in 1 color. OR even easier, it could be a solid border stitched with my "Toga Trim" or "Greek Braid" designs that come with the "Mosaic" Panto #2493. So you've got some wiggle-room depending on your time and expertise. I'm include the "Greek Braid" in the PDF so you'll have it. (As I was developing the design I lost the "mock-up" so was unable to make changes on the corners of the brown border. )
As I plotted out the design I added lines to show the piecing. Each small square is 2" so you can figure out the sizes of all the sections. For example, the finished strips in the pinecones are all 2" wide (remember cut 2 1/2"). Therefore the small pinecones finish at 8" square. If you actually cut the center into a circle you don't need to "piece" the large brown square at all. Just inset the circle, or applique it into the square. (Even though the circle is quite big you can still use the insetting method described in the T-shirt quilt tutorial.)
But what about the Mock-torial! And what is that anyway?
Since I didn't actually make the quilt it is just a "Mock-up." So I'm calling it a "Mock-torial." Download it here: Sweet Pine Quilt.
MERRY CHRISTMAS – FELIZ NAVIDAD
But more is going on at my house. Here are some pictures of what I've been working on. This Pictogram pattern is called "Las Posadas." The name refers to a Nativity play, of sorts, that is acted out in the towns of Mexico and Guatemala.
Light the World is our church's theme for this Christmas Season. As part of the "kick off" we had a huge Nativity Festival. A Mexican Nativity Set seems appropriate for Las Posadas. Are you celebrating? Send me some pictures!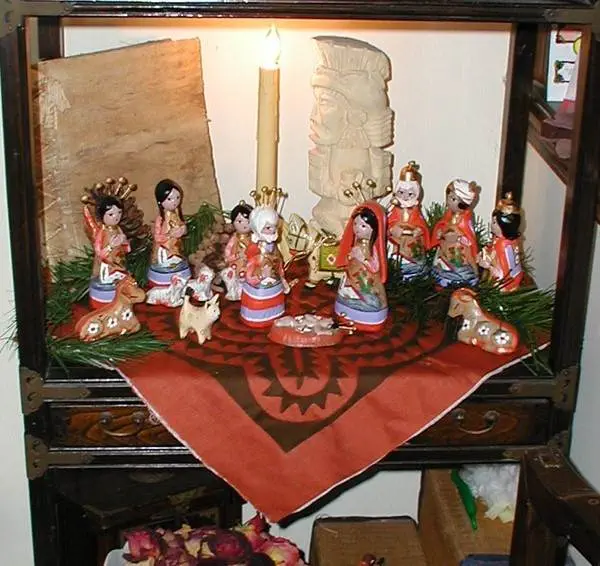 Don't forget the new Christmas patterns! On SALE this month!